Speculating on Vintage Watch values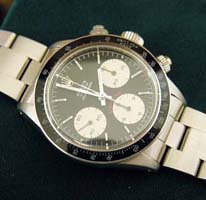 Determining a watch's value is perhaps the biggest obstacle in watch collecting. So many factors go into  the watch value for any particular piece.
There are several price guides that one can purchase at your local book store or online, all designed to offer up an estimated value of a particular watch. The obvious caveat is that one publication can be expected to broadcast an accurate picture of the watch market globally for every particular watch available.
The value of a watch is the purest reflection of the demand for a watch. The old rule of supply and demand is the strictest guideline in this business. The most glaring examples of this are the values of two of the most sought after Rolex models in recent memory, the Rolex Explorer 1016 and the Rolex Daytona, models 6239, 6240, 6241, 6263 and 6265.
In the 1980's brand new Rolex Daytona's could be bought for less than $500 USD. A surge in popularity in Europe, most notably Italy, sent shock waves around the world and eventually prices had climbed to thousands of dollars for any of these models with the ultra collectible Paul Newman Exotic dialed models surpassing the price of a mid market luxury car.
Now with the Explorer 1016, the watch languished in the sub $500 USD price range until a Japanese television personality wore one on screen and an explosion demand driven by fashion conscious consumers sent the book value of this model into stratospheric levels in a very short space of time. The market in these watches peaked in the late 1990's with the most pristine, late model hacking units commanding 5 figure sale prices in Asian markets.
Obviously it would beneficial to be able to predict the next hot item, but such is the nature of collecting, one never knows.
As and aside to the debate on value, on a recent trip to Las Vegas, I strolled through the Shops at Caesar's Palace. There are a number of fine watch boutiques in the mall, however one well known national chain has a vintage watch counter that attracted my attention. There on display was a 1940's vintage Canadian market Rolex Oyster, gold filled with a refinished dial. In days gone by, many had questioned the authenticity of Canadian Market Rolex's due to the fact the movement was only signed Rolex under the dial on the top plate.
Now in Las Vegas there sits a less than prime example of this relative rarity, commanding the somewhat princely sum of $3895 USD! Given that these watches are a staple of my collection, I truly hope that this is a sign of things to come in this potentially undervalued market.