The 2014 Sochi Winter Olympics are in full swing at present. What better time to reflect on Omega's historical involvement with the Olympic games. Omega first became the official time keeper of the 1932 Olympics in Los Angeles. Omega has been the official Olympic timer ever since with the exception of two summer and 3 winter Olympic games, which were timed by Seiko.
Rather than dwell on the actual equipment used in the Olympics to time athletes lets look at some of the watches introduced to commemorate the Games. Lets look at the period from 1956 to 1979.
The first wrist watch produced by Omega in Olympic honour was the 1956 Omega Seamaster XVI. This watch the reference 2850 was made in solid 18 karat gold and was fitted with an Omega automatic calibre 471 movement. There appear to be two versions of the 1956 Omega Seamaster XVI. One example has a dial printed with the Olympic rings and the Cross of Merit printed on it. Other watches the gold metal Roman Numerals XVI on the lower half. These were the 16th modern Olympic games. One story circulating alleges that Omega ran into some trademark issue with their use of the Olympic logo on the dial. Reportedly some of the watches were recalled and had the dials swapped. The painted logos were replaced with the metal Roman numeral version. The rear of the watch had the Olympic Cross of Distinction in raised relief in the centre of it. The Roman numerals for 16, XVI, were engraved at the top. The backs on both examples are the same. Original examples are quite valuable.
The next model to honour the Games was the 1976 Omega ChronoQuartz.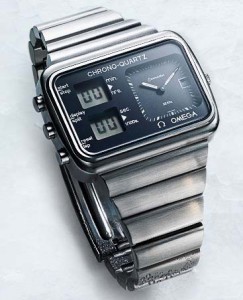 This large watch featured a combination LCD digital/analogue display in a rectangular format. The design appeared to mimic a score board and was even referenced as such on the Omega literature. At this point during the 1970's quartz watches were the leading edge of technology and the ultimate expression of Omega's technical prowess. The watch was fitted with an Omega quartz calibre 1611 which required 2 batteries to power the multiple displays. This advanced model was able to measure time down to 100ths of a second and keep track of different lap and split times. The code name Albatross was given to the model by its developers given the wide clamp used inside the watch to secure the batteries. This model also carried the Olympic Cross of Distinction on the caseback but instead of the Olympic logo, the iconic Seamaster (seamonster) logo accompanied it.
One model that was not introduced by Omega as a commemorative model but rather as a functional Olympic event timer for the Games was the 1968 Omega Seamaster Chronostop . This stopwatch/chronograph watch was given to timers to use at the 1968 Mexico City games. Being that it was a functional piece and not a consumer commemorative product, there are no units embossed with Olympic logos or Crosses.