Omega Speedmaster Moonwatch Presentation Box
Omega Speedmaster Professional moonwatches are getting a makeover of sorts. Starting in mid-July 2014, select models of the Omega Speedmaster Professional chronograph will begin shipping with a special presentation box containing a treasure trove of unique accessories.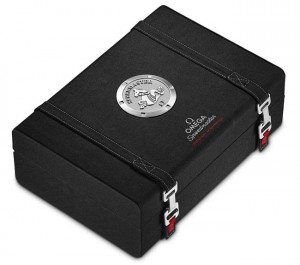 The legendary Speedmaster Moonwatch is perhaps one of the most iconic wrist watches of all time having been the first watch worn on the moon and the first watch to be NASA flight qualified for all manned missions.
The new presentation box will be covered in a dark fabric with metal fastening clasps. The real bonanza hides within. Along with the Omega Speedmaster Moonwatch, the box will contain a number of previously unavailable and optional items.
Besides the fitted leather strap or stainless steel bracelet, the Omega Speedmaster Professional chronograph now ships with a black polyamide "NATO" strap and a black Velcro strap inspired by the one astronauts wear in space. An Omega branded tool to remove the bracelet or straps is included, along with an instructional booklet explaining how to perform the switch.
An Omega branded eye loupe with the Speedmaster Tachymetric bezel circling the opening is also included, along with a metal disc exhibiting the famed Seahorse Hippocampus found on the original Speedmaster watches produced in the 1950s and 1960s.

To complete the package, Omega has bundled in a book chronicling the historical adventures of the famed Omega Speedmaster.
Interestingly, Omega will be changing the reference numbers of the Omega Speedmaster Professionals when the new packaging begins shipping. The ref 3570.5000 will now become 311.30.42.30.01.005, 3573.5000 becomes 311.30.42.30.01.006, 3870.5031 changes to 311.33.42.30.01.001 and 3873.5031 lives on as 311.33.42.30.01.002.
In a nod to current Omega Speedmaster Professional owners and just general fans of Omega or anyone wanting all this cool swag, Omega will also be selling the presentation box as a standalone item. Pricing for the box, its reference number 9410.63.14 in Canada, with be about $720 at Omega boutiques across the country.
You can read more about the history of the Omega Speedmaster or try and track down the now long-discontinued book "A Time Capsule" about the Speedmaster written by Kesaharu Imai.